Borealis String Quartet Summer Chamber Music Program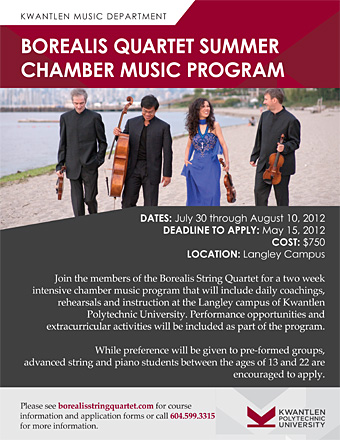 DATES: July 30 through August 10, 2012*
DEADLINE TO APPLY: May 15, 2012
COST: $750
Click here to download flyer. (PDF format)
LOCATION: Kwantlen Polytechnic University, Langley Campus
Join the members of the Borealis String Quartet for a 2 week intensive chamber music performance program at Kwantlen Polytechnic University, Department of Music, Langley Campus.
Deepen your experience and understanding of chamber music and cultivate the demanding collaborative skills necessary through leadership and communication development.
The program will include daily chamber music rehearsal and instruction. Ensemble technique and small group problem solving as well as musical interpretation will be emphasized in master classes and ensemble coachings. Students will be expected to arrive with music well practised and prepared. Each week will include performance opportunities for participating ensembles. Classes begin at 10:00 am concluding at 3:30 pm each day.
APPLICATIONS
While preference will be given to pre-formed groups, advanced string and piano students between the ages of 13 and 22 are encouraged to apply. Applicants must be at RCM Grade 10 level of above. Enrolment will be capped at 5 ensembles. Open to strings (violin, viola, cello) and piano only. The program will be subject to a minimum enrolment of 16 students.
Students must also be sufficiently fluent in English to participate.
Pre-formed groups are required to perform two contrasting movements of a standard chamber work. Individual students are required to perform two contrasting solo works. Auditions will be held at KPU School of Music on May 26th, 2012. Students who are unable to attend a live audition may mail their audition material by the deadline date.
Applicants should submit the following to be received by May 15, 2012:
a) Program Application Form
b) Program Biographical Form (additional resume optional)
c) Audition Request and Payment Form
d) Non-refundable $50 application fee
e) Letter of recommendation from teacher
f) For recorded auditions only: a quality video recording (DVD strongly recommended), Youtube or other digital media. Auditions with just audio will not be accepted.
Click here to download application. (PDF format)
TUITION
The tuition fee for the 9 day program is $750 per student. Some bursary assistance is available upon request at the time of application subject to enrollment. Travel expenses are the responsibility of the student. Home-stay can be arranged for out of town students for an additional $400. All Home-stay students will be chaperoned during their stay when not attending the program.
A non-refundable deposit of $250 should be paid within two weeks of acceptance to confirm participation. The balance of $500 per student is due July 3, 2012.
REFUND POLICY
Refund requests must be submitted in writing. A full refund minus the non- refundable deposit will be made until July 16, 2010. No refunds will be issued after this date.
*Please note that classes will not be held Saturday and Sunday or Monday, August 6th which is a civic holiday.