Back to List
News
June 21, 2012
MUSIC IN HERITAGE HOMES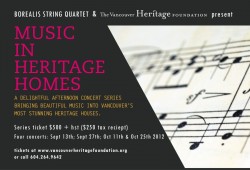 Borealis String Quartet & The Vancouver Heritage Foundation present
MUSIC IN HERITAGE HOMES
WHAT
A unique concert series held over four afternoons in four different heritage houses each followed by a high tea reception. The series is a fundraiser for the Vancouver Heritage Foundation and the Borealis String Quartet.
WHO
The Vancouver Heritage Foundation is a registered charity raising awareness about historic building conservation through education and granting programs. Founded in Vancouver in 2000, Borealis String Quartet is one of the most dynamic and exciting world-class ensembles of its generation. It has received international critical acclaim as an ensemble praised for its fiery performances, passionate style, and refined musical interpretation.
WHY
What better way to enjoy Thursday afternoons than listening to amazing music created by Borealis in beautiful heritage home surroundings!
Following each concert High Tea will be served.
Your ticket to the event and high tea is partially tax deductable:
• Any 1 Concert: $146.60 (includes tax) with an $85 tax receipt
• Any 2 Concerts: $285.60 (includes tax) with a $140 charitable tax receipt
• Series Pass: all 4 concerts $530 (includes tax) with a $250 charitable tax receipt
For tickets or more information, call the Vancouver Heritage Foundation at 604.264.9642.
Tickets can be purchased online at www.vancouverheritagefoundation.org
The dates and program are as follows:
September 13, 2012 1-4 pm
Haydn String Quartet in G Major, Op. 76, No. 1
Grieg String Quartet in G Minor, Op. 27
September 27, 2012 1-4 pm
Zhee-i Lee Taiwanese Folk Song Suite
Beethoven String Quartet in C Major, Op. 59, No. 3
October 11, 2012 1-4 pm
Beethoven String Quartet in F Major, Op. 18, No. 1
Shostakovich String Quartet No. 8
October 25, 2012 1-4 pm
Beethoven String Quartet in B-flat Major, Op. 130 and the Grosse Fuge, Op. 133
Tickets at www.vancouverheritagefoundation.org or call 604.264.9642