Back to List
News
February 1, 2017
Denman Island Chamber Music Retreat next August!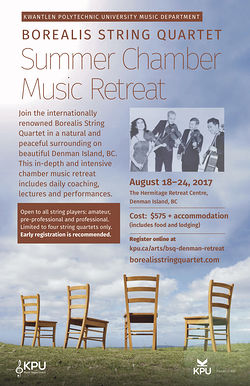 The Borealis String Quartet invites you to an exceptional five day summer chamber music retreat from August 18 to 24, 2017. Situated in the quiet environment of the Hermitage Retreat Centre and located on a 60-acre organic farm on beautiful Denman Island, this pilot project, limited to only four quartets, is intended to provide a more in-depth and intensive chamber music experience in a natural and contemplative setting.
The daily schedule will include two intensive coaching sessions with individual members of the Borealis String Quartet, open masterclasses and individual rehearsal time for all chamber ensembles. Informal Q&A sessions on various topics such as rehearsal technique, music interpretation and communication skills will supplement the experience.
Included in this retreat are two Borealis String Quartet concerts given on August 18 and 19 at the Jefferey Rubinoff Sculpture Park on neighbouring Hornby Island. The evening concert on August 18 is an 'invitation only' event for which each retreat participant will have a reservation. The following day, also at the same venue, includes an out-door performance with a special guided tour of the Park. This will be preceded in the morning by an open rehearsal of the Borealis String Quartet at the performance venue.
The BSQ welcomes all string players: amateur, pre-professional and professional. Preformed groups are preferred, though individual applications will be considered. If you would like to apply individually, we can try and introduce you to other potential members.
In addition to the music schedule, optional daily social activities will be planned including visits to local artisans, short hikes, visits to nearby beaches and swimming in local lakes.
For those wishing to enjoy some of the features of the Hermitage Retreat Centre, personal massage and meditation practice will also be available to all the participants.
Fees are $575 per participant and include coaching, lectures, free-playing, and BSQ concerts. Additional fees for accommodation range from $360 to $510 depending on availability and personal preference - with excellent food included! Accommodation information made available after acceptance.
Fees include a non-refundable application deposit of $75.00 per participant. In the case of applicants who are not accepted, deposits will be returned. Registration is accepted upon receipt of deposit.
Applications accepted beginning January 15, 2017. Early applications recommended.
Final Registration Deadline: May 15, 2017
Acceptance Date: May 25, 2017
Payment in Full Due: June 1, 2017
Deposits are refundable until June 1, 2017. No refunds after this date.
To register, please visit: http://www.kpu.ca/arts/bsq-denman-retreat