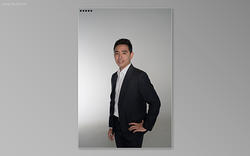 Sungyong Lim
Cellist, Sungyong Lim, graduated with honors from the renowned Yewon School and the Seoul School of the Arts before entering the Korea National University of Arts. During his university studies, he decided to advance his musical education in Europe. Accepted by the Detmold Musik Hochschule in Germany, he earned a bachelor's degree, master's degree, a konzertexamen's degree in cello performance. Sungyong graduated at the top of his class, with a comprehensive performance repertoire and with considerable teaching experience.
Among his many musical achievements, Sungyong has received accolades from the DAAD (Deutdcher Akademischer Austausch Dienst) and from his performance at the German Chamber Music Competition. He continues to receive invitations for solo engagements from organizations such as the German Johannes-Brahms-Saal, and Detmold Konzert Hause, as well as from musical groups in Switzerland , France, Luxembourg, Germany and Korea. Sung Yong has also concertized as an outstanding artist in the French Flaine International Masterclass, the Courchevel Music Festival, the Swiss Lugano Music Festival and the Swiss Sion Music Festival. In addition, he performed, by invitation at music concerts with the Navara Music Festival, and had concerts under Kurt Masur. He also attended the Master classes of famous music professors, such as Lauren Lesser, Christoph Henkel, Xenia Jankovich, Yong Chang Cho and Praha Trio.
His musical talents have been influenced by many recognized artists with whom he studied, including Marcio Carneiro, Johnes Goritzki, Alexander Gebert, Aurin Qurtet, and Sung Won Yang. Sungyong has played as the principal cellist of both the German Detmold Orchestra and the Mosy Chamber Orchestra.
Also, he regularly performed in many chamber music concerts, with duos, trios and quartets in Korea and Germany.
Sungyong currently teaches at Kwantlen Polytechnic University and since 2015, he has been a member of the Borealis String Quartet.